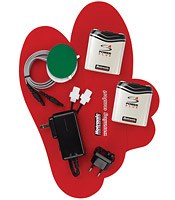 2020 Hotronics S4 Custom Footwarmer Kit
$209.00
MSRP: $254
Hotronic's FootWarmers S4 are all new! With thin profile, high capacity Battery Packs, the S4 are Hotronic's most powerful yet compact designs to date! Maintain comfort and warmth in your feet!

Features:

Offers up to a combined 30% increase in higher average temperatures and longer durations on a single full charge.

Maintains up to 55% of a full charge and 95% of the initial capacity after four years of non-use!

Provides power when needed most, in the cold!

Installs in all types of footwear.

Transfers from one pair of footwear to another.

Use while skiing, snowboarding, bicycling, horseback riding, and during other general cold-temperature activities.

Battery Features:

Offer three (3) base level settings for comfort and warmth maintenance.

Provide a fourth (4th) "timed" setting for an extra blast of heat.

Powered by high capacity, cold temperature operation, NiMH AA cells.

NiMH cells do NOT have a "memory effect" and do not require fully discharging before fully recharging.

Kit Includes:

2 Battery Packs
1 Recharger
2 Heating Elements
1 pair of Self-Adhesive Covers & Strips
Operating Instructions & Limited Warranty Card.

Internet Pricing of $199 does not include instation!